HJHS night #2 of Parent-Teacher conferences will be: Thursday, Oct. 29th, 5:00-8:00 p.m. Please call HJHS to request a callback from your student's teachers to schedule. 942-5603

1st Qtr ends on Friday, Oct. 9th. Grade cards will be sent home on Wednesday, Oct. 14th.

HJHS Fall 2020 Parent-Teacher conferences will be: Oct. 6th, 5:00-8:00 p.m. Oct. 29th, 5:00-8:00 p.m. Oct. 30th, 8:00 -11:00 a.m. & 1:00 -3:00 p.m. Please call HJHS to request a conference. 942-5603

Spirt Week 2020 Sept. 28th - Oct. 2nd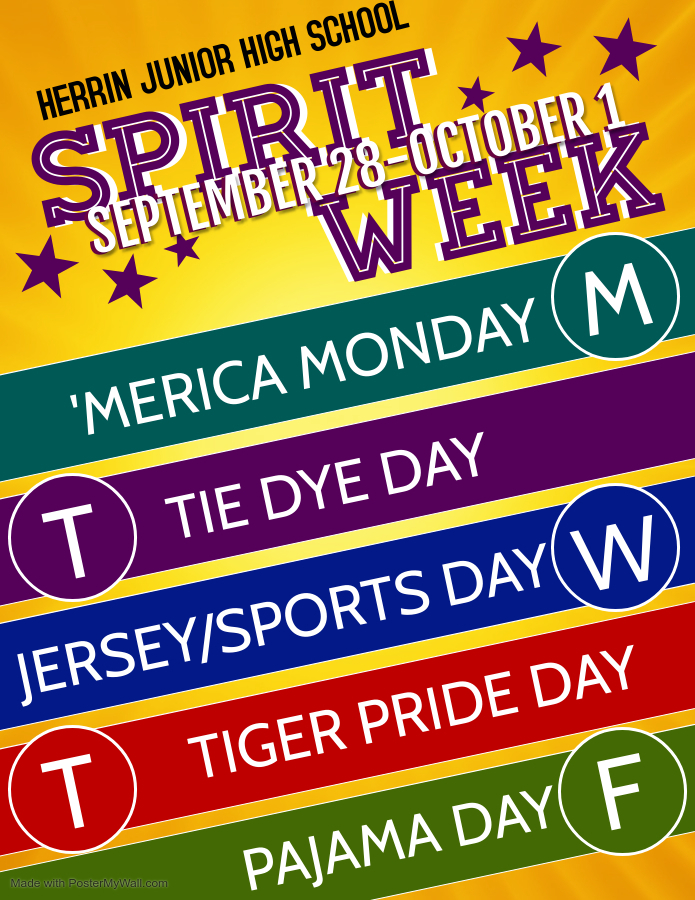 Please see the attached flyer for an upcoming Parent Peers Empowering Parents (PPEP) meeting on 9/29/2020. This meeting will be led by Centerstone and the topic for this month will be "Conflict Resolution". If you have any questions, please contact Brandy Moore at (618) 457-6703, ext. 7772.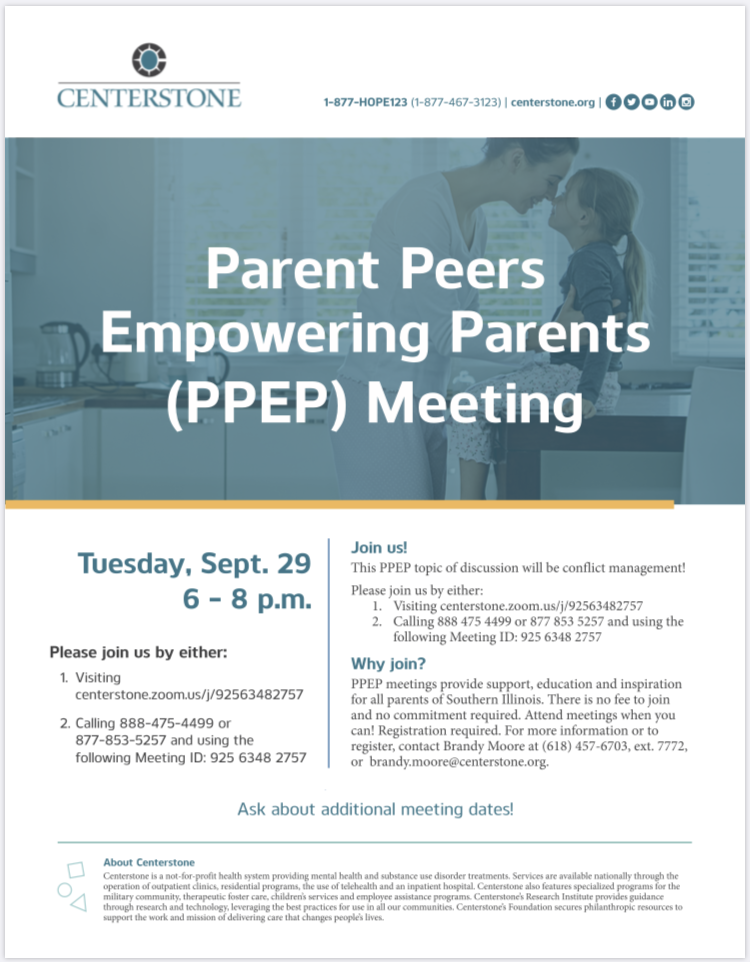 If you need PowerSchool log-in information for your student, please email
techdesk@herrinschools.org
with your with your request and include your name and your student's name.


Our local McDonald's is honoring educators that exhibit the ULTIMATE DEDICATION to their students & contribute to the IMPROVEMENT OF EDUCATION in our MOST CHALLENGING TIMES! Please follow the link below to honor an HJHS teacher!
https://www.surveymonkey.com/r/teachitforward2

September is Recovery Awareness Month. In their efforts to raise awareness of drug and alcohol addiction and use, RecoverUs is sponsoring free webinars, titled Hidden in Plain Sight, for parents and adults. The link to register for the webinar is bit.ly/hpsgroup2. For the next month, RecoverUs has a replica of a teenager's bedroom set up in their facility and will be conducting interviews, podcasts along with the presentation of Hidden in Plain Sight.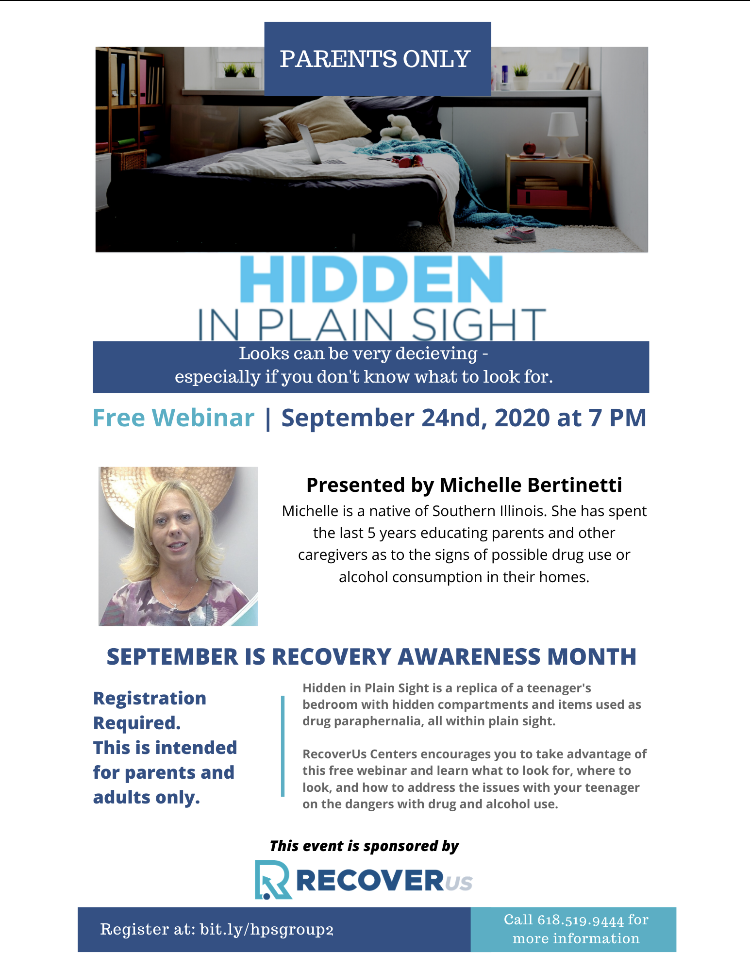 Latest Breakfast/Lunch Information for Herrin CUSD #4 Families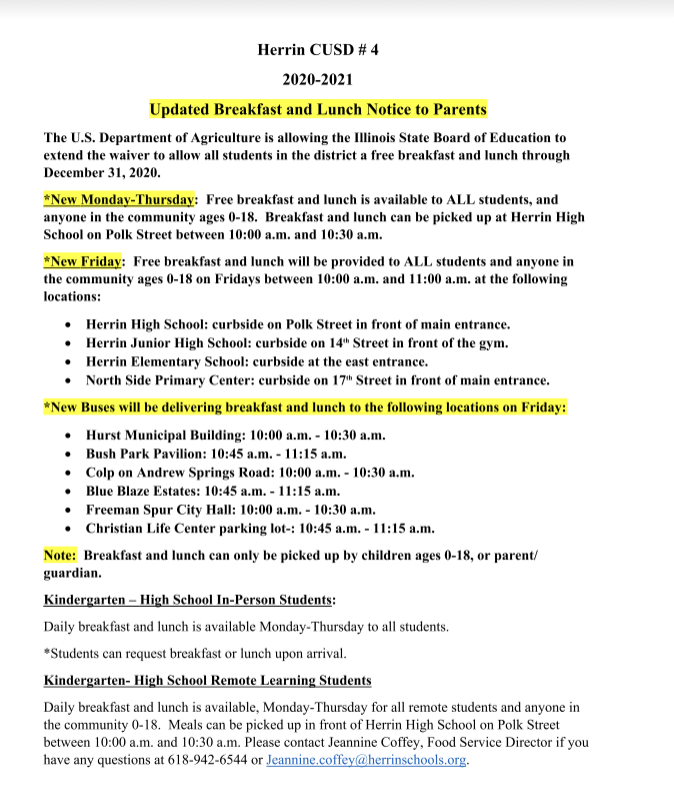 1st Qtr Midterm ends on Friday, Sept. 11th. Midterm grade reports will be sent home on Wednesday, Sept. 16th.

Picture retake day is Thursday, Sept. 17th. Remote kids will be able to come to the gym 1:00-3:00 to get their photo taken.
See attached image for youth league bowling sign-ups.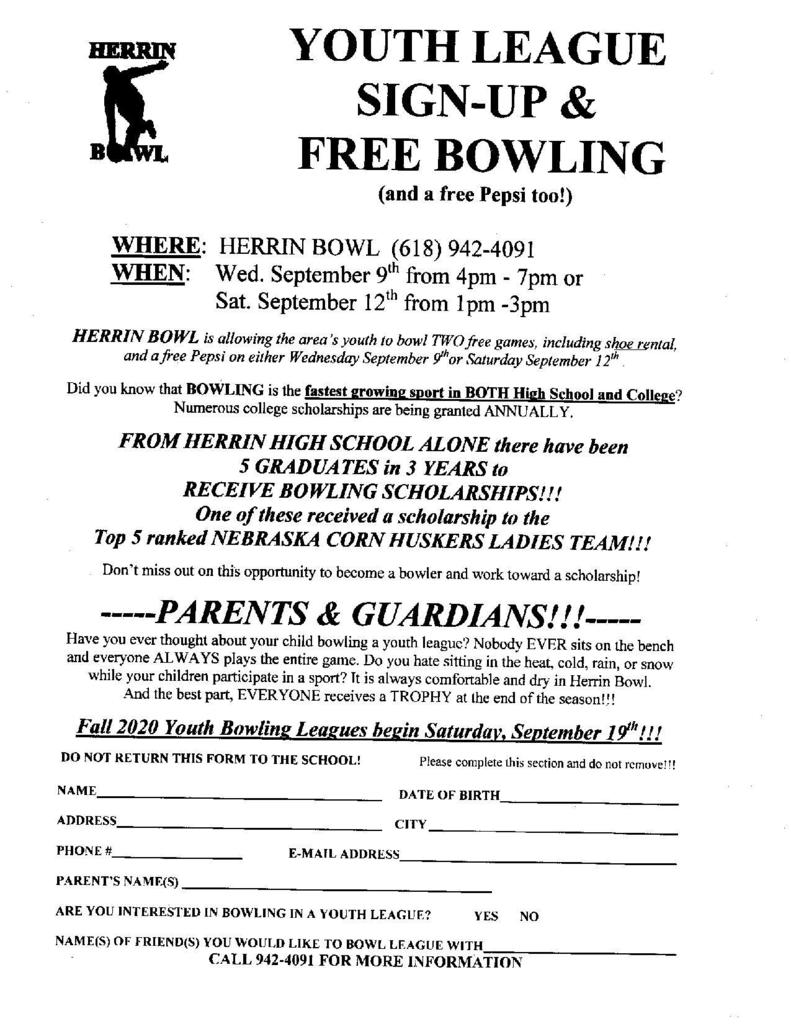 Updated breakfast and lunch notice to families.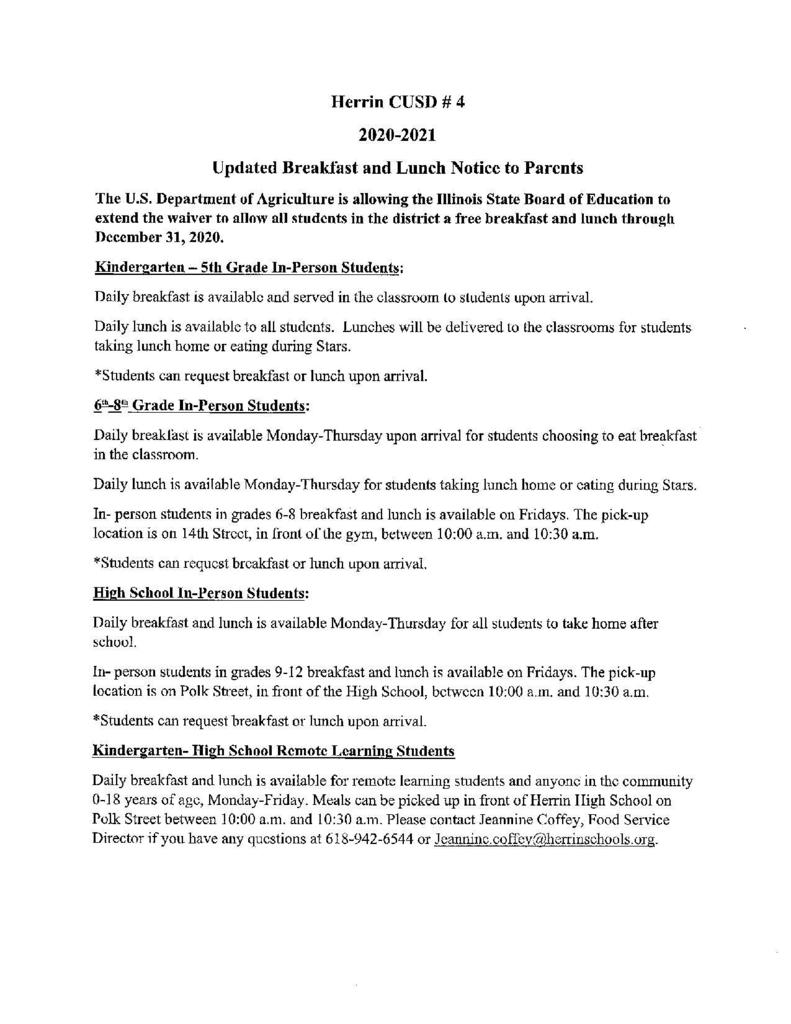 Please see the attached flier for information regarding free student library cards for Herrin City Library.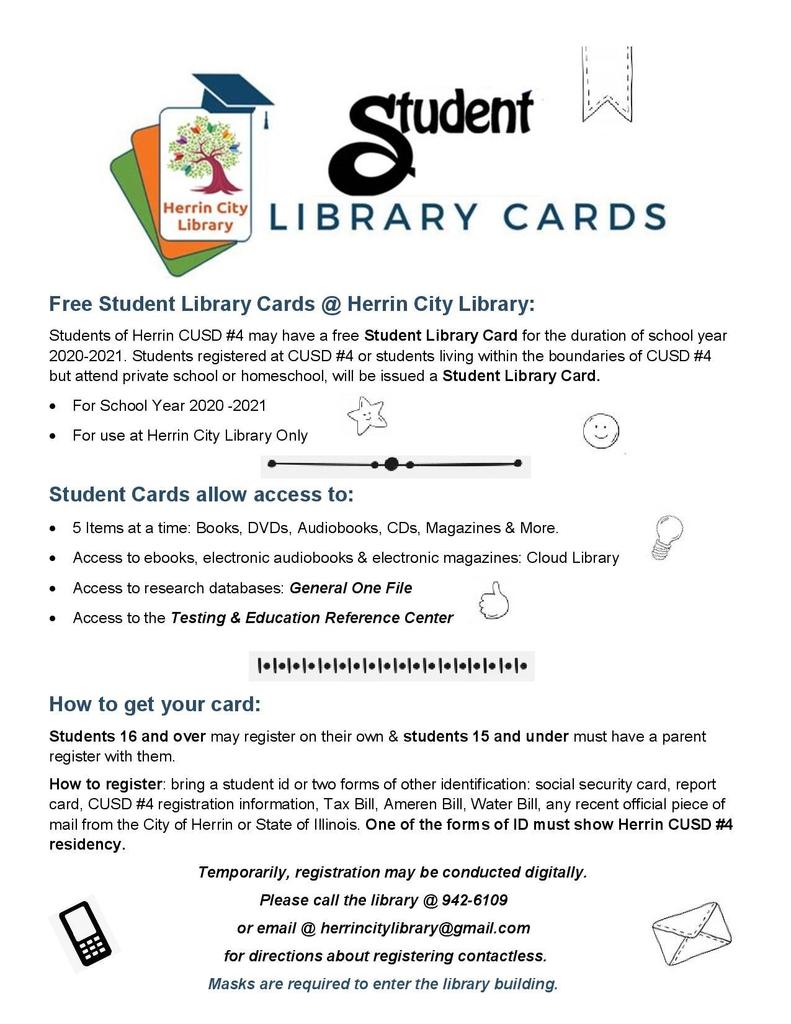 Beginning Wednesday, September 2, ALL Herrin Junior High School students may receive a free breakfast and lunch. Remote learners may pick up at HHS along Polk Street at 10:30 AM, and in-person learners may pick up as they enter and leave school each day.

Per Mrs. Mayer: Lifetouch picture codes will be emailed to each student's school email account.

Good afternoon! This is an update regarding fan attendance at Herrin CUSD #4 Athletic Events. According to IDPH guidelines, all fans must wear a mask at indoor and outdoor events. Individuals should maintain at least 30 feet distance from any player, coach, or official. We ask that HJHS baseball/softball spectators sit in the outfield. HHS tennis fans may sit in designated areas on the parking lot side. HHS/HJHS cross county and HHS golf spectators may observe from a distance and away from start and finish areas. Thank you for all of your support in observing IDPH guidelines, so our student athletes may participate this season. If you have any questions, please feel free to contact the HHS Activities/Athletics Office.

Softball Schedule 2020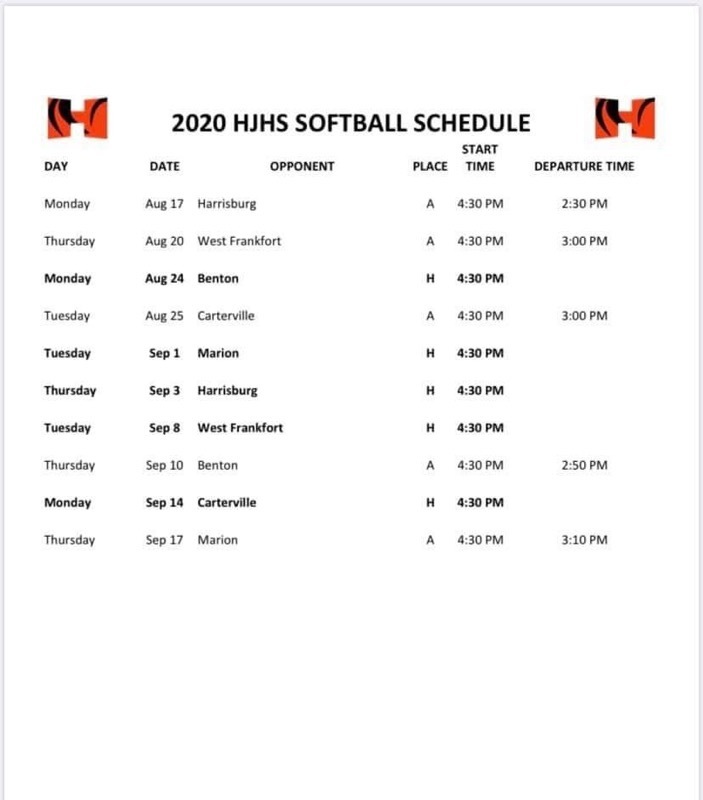 Baseball Schedule 2020